A Note about Dates and Times
All dates and times are subject to change, especially during holidays and at the start of each semester. Please check with me for the actual schedule - I will try to keep this site updated as much as possible.
Archery
Fridays 3:00 PM - regular time slot
Weekends or other days by request
Night archery available during certain seasons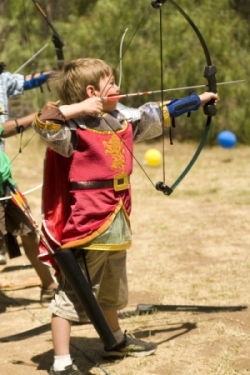 Times may vary in any given week, so please check! Advanced registration is required - no drop ins.
Email me to get on the notifications list.
We also offer special events such as parties or private sessions.
Click here for details.
Public Sessions
Archery is offered each week for one hour per session, unless weather or other events force cancellation.
No regular commitment is required but you must register in advance by email if you intend to come.
Minimal instruction, mostly just free range practice. Lots of fun things to shoot at!
Cost is $5 per student preregistered, all equipment provided.
Registrations the day of class are $7.50.
Ages 5 to adult, with special setup for preschoolers.
All students must be able to follow safety rules and listen to instruction, or they will not be permitted to shoot
*Minimum 4 archers per session or that time slot may be canceled.
To register, just send me an email with all archers names and ages (or "adult") and the requested time slot.
You can change time slots each week if you wish, or you can be a "regular" at a certain day and time.
"Regulars" must be pretty consistent, and must notify me if you are NOT coming that week.
All others must notify me each week only if you ARE coming.
I will put your names into my computer so that in the future all you have to do is send a quick confirmation notice.
Night Archery
Night Archery is offered for experienced archers 5 and up, or new archers age 12 and up. The cost is $7.50. Minimum of 4 archers with a max of approx 8-10. Glow bands, blacklight flashlights, special arrows and light-up targets make this a fun event for the whole family!
Private Sessions
A normal public session is open to anyone. If you want a private session the minimum cost is $40 for up to 8 people, $5 additional. You can also request a public session be added. I need to know in advance so that I can offer it to more families to keep the price down.
Private Parties
A birthday party or other special celebration can be arranged. This can be anything from just a one hour session to a full event. Minimum cost is $50 per hour. Email me to discuss details. Pinatas, balloons, party favors, crafts for guests, bounce houses, etc. are all possibilities.
Archery Tournament
Once in awhile I offer a tournament. It is a lot of work but tons of fun! Costumes, food, prizes, and family-friendly archery games all day long. Compete only against yourself for points to spend at our "archery store."
See our Archery Tournament photos
See our Rain Policy