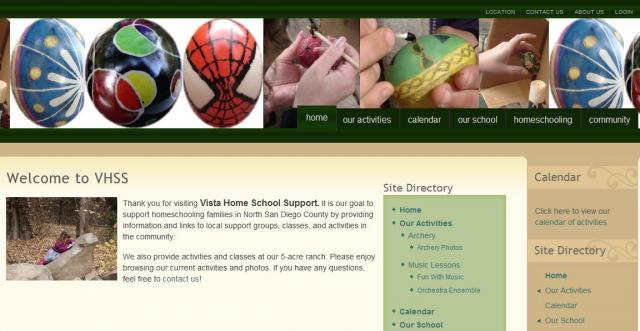 http://www.brobergweb.com/vhss
This site actually has a combination of several purposes. First, it promotes local activities for a support group. Classes and events offered by this group are easily found by interested parties and a calendar helps keep track of important dates.
But second, there is a whole area of community resources that help visitors understand home schooling and find ways to connect to other sites and community offerings.
Because this site has several functions, it also has several color schemes for the different sections of the site. One section has images from the group's various activities, and sidebars offer access to upcoming events and member accounts. But a different section of the site de-emphasizes the specific offerings in favor of a more community-oriented look. An entirely different color scheme and layout applies to this portion of the site, and links that relate to a more general audience populate those pages.
Each website we design takes into account the specific needs of the client as well as the needs of the intended audience. By working closely with the client we can develop a custom site that has the right balance of content managed by us and content managed by the client in order to meet the needs of the client and their customers.